Hello! Welcome to Bon Corbeau Calligraphy & Design, a full service lettering and stationery studio. I am based in Oklahoma City, Oklahoma and serve both local and nationwide orders.
Please browse and get in touch with me if you have any questions. I would love to hear from you and work on a lettering project for your event. My services are a la carte. You do not need to buy a package or purchase a minimum order. Events are personal to our style, taste & budget, therefore you should be able to pick and choose only the pieces that you most desire.
If you are interested in a style or project you do not see, let me know, chances are I have worked on something similar and can help you out.
Calligraphy & Design Services
envelope addressing
You guessed it! This entails hand-lettering your envelopes. There are plenty of options available, see my script styles page as a reference of most commonly used styles. Envelopes can be addressed in black, colored or metallic inks. Either myself, or you may provide the envelopes. Please note, not all envelopes are created equally - meaning lesser quality paper will not accept calligraphy ink well.
For Envelope Addressing pricing click here.

Heirloom
Fantastic possibilities await to commemorate something significant in your life. I offer scripted vows, love letters, song lyrics, poems, scriptures, nursery art, calligraphy for birth announcements, memorial tributes to a love one, etc. A wonderful anniversary or just-because gift. Even if you don't know where to start, drop me a line and I would love to help you find the perfect way to celebrate or honor someone special.
For Heirloom pricing click here.
invitation design
Wedding + Event invitation suites continue to evolve into artistic custom presentations to announce your big day. These suites are designed to represent your personality and the totally awesome party you are throwing. Suites are designed to fit your needs and budget and can contain everything from the main invitation card, rsvp card + rsvp envelope, details card, accommodations card, maps and venue illustrations. You are in charge of what you want to send, so the suite is customized for you.

 
day of signage
These days, there is no limit to the number of fun and creative day-of signs you can have at your event. Yay! Place cards, table signs, seating charts, menus, quotes, hashtags, in memoriams, welcome signs, vow books, program books, the list goes on and on... Typically, larger signage is wood, chalkboard and acrylic. But again, the possibilities are endless. I have lettered on fruit, vases, lanterns, horseshoes, botanicals, rock, tile, etc. You get the point.
On site lettering
Please contact me if you are interested in on-site lettering in your store or at your event!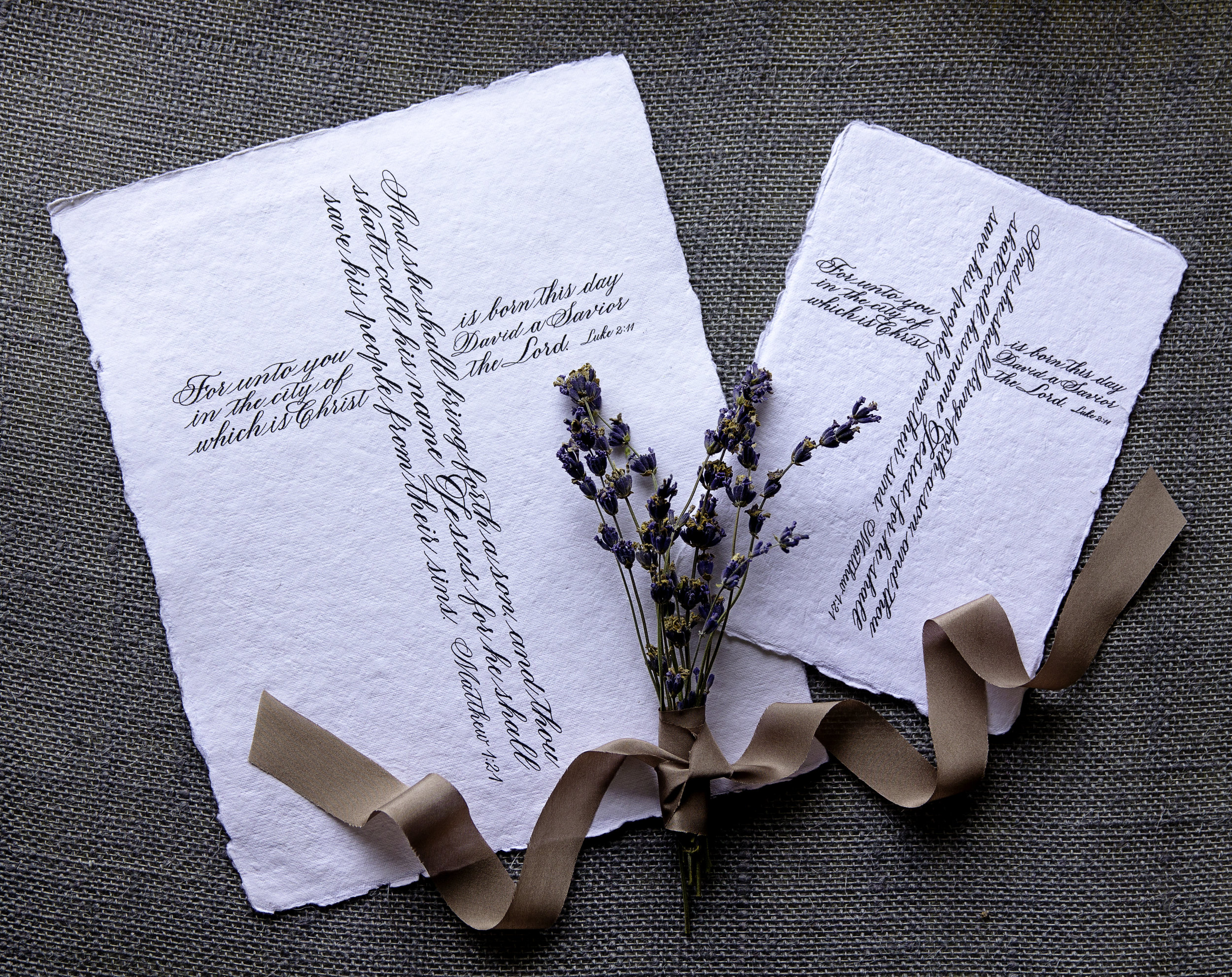 CONTACT US
that's more of the 'royal us' because its just me, so contact me...
Event planning is stressful! Finding the perfect anniversary gift is enough to prod us all to Walmart for the free blood pressure test. We have all been there. I am certain there are loads of questions you have about how to incorporate some snazzy calligraphy into your life. Please feel free to ask me anything! I am happy to help you find the perfect style and product.